Junior Wheelchair Tennis 2020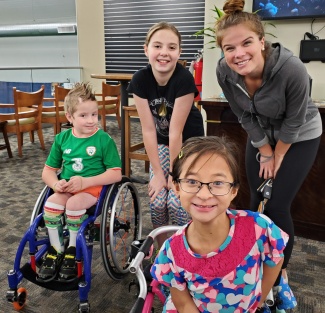 Access Tennis Seattle is proud to announce the 2020 schedule for Junior Wheelchair Tennis quarterly camps. Just as hosted in September of this year, ATS will hold quarterly wheelchair tennis camps for those brand new to the sport or have had less than one year of continuous lessons.
There was a lot to be excited about from the September tennis camp and the participants that attended demonstrated that there is love for tennis and a need to create more opportunities to grow the sport for disabled juniors.
The ATS tennis camps will focus on a series of progressions to help your player learn how to: 1) move on the court; 2) hit successfully; 3) mentally focus for short bursts at a time; and most importantly 4) have fun on a tennis court with friends!
Equipment: Tennis rackets are available to borrow for all camps as well as sports chairs as long as there is adequate time for ATS to procure a sports chair for your player. To request a sports chair for your player, please contact Anthony Anderson via email with your player's size specifications: age, weight, height, and disability level.
Schedule
All wheelchair tennis camps will start at 9:30 AM and run until 12:00 PM
January 26th
March 29th
June 14th
October 4th
Access Tennis Seattle asks all participants to make a suggested donation of $30 for each camp registered.
Donations help ATS's efforts in growing tennis programs at other locations in the greater Puget Sound and to provide scholarship opportunities for new players.